Alberta Beekeepers Hit Hard by Winter and Covid-19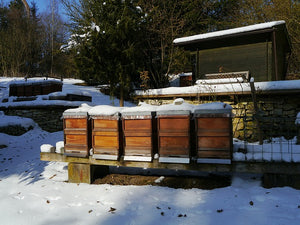 As winter moves in, let us stop to consider how beekeepers and their bees in Alberta, Canada will fare. An article last summer said that they might lose twice as many hives this year as they normally would, due to the double whammy of a harsh winter and the fallout from ongoing COVID-19 restrictions.  
The Alberta Beekeepers Commission tracks and represents beekeepers. Their executive director, Connie Phillips, said that beekeepers are losing an average of 30% of their hives but that some are even tracking losses of up to 90%. Compare these figures to what they normally lose over a typical winter—15 to 20%.
In 2019, pollen from crops like canola was washed away by wet autumn weather. An added challenge from this inclement weather is that honeybees don't like rain, so they tend to stay put in their hive and that means less honey is produced. This, in turn, causes a harder winter for Alberta beekeepers.
Since beekeepers make their money from honey, the number of hives is tied to the amount of honey being produced.
When losses are up to about 20%, beekeepers can recover from the winter deaths according to Phillips. But once it pushes past the 30% range it gets a lot harder to build the numbers back up in time in this seasonal business.
This 4:45-minute video by 4 Seasons Outdoors shows a northern Alberta beekeeper in March 2019 checking his hives after the winter: 
Many factors are influencing bee loss in the province. The COVID-19 travel restrictions that closed the border in 2020 reduced the availability of skilled temporary seasonal workers that normally help care for the bees in spring, especially when they emerge from the hive early and blooming flowers are few and far between.  Alberta bee farmers scrambled to get enough food out to feed them fast enough since it is a race against time, or they will starve to death.
Jeremy Olthof, president of the Alberta Beekeeping Commission, tried to bring in 8 workers from Mexico but got permission for only 6, due to pandemic restrictions. He found a few teenagers to help pick up the slack.
According to Phillips, there are usually around 400 skilled seasonal workers in Alberta from outside Canada, which represents about 30% of the people hired to work in beekeeping. These workers are skilled at splitting strong hives into two separate colonies, which is one of the ways that beekeepers make up for winter beehive losses. Splitting the hives is much more challenging without those migrant workers.
Olthof lost 20-25% of his hives last winter. He started out with 4,800 hives but was only able to rebuild his numbers to 4,500 this year by splitting his hives.
Bill Termeer is an Alberta Beekeeping Commission member. He lost half his bees last winter. Only 2,500 of his 5,000 hives survived. The normal loss in his area, known as the Peace Region, is around 30%. He had to buy bees since he couldn't recoup his numbers by splitting hives.
Another way that Alberta beekeepers try to recover from winter losses is to import queen bees and bees from Australia, Chile or New Zealand. But COVID-19 restrictions closed that avenue since the pandemic stopped live animal transfers.
Derek Johnston, manager of member relations with Bee Maid, is heralded by beekeepers as having practically saved the beekeeping industry this year. He kept the industry alive by making frequent trips to the Vancouver area to pick up queen bees imported from Hawaii and delivering them across Alberta and British Columbia.
Alberta is the largest honey producer in Canada, with about 170 beekeepers registered with the Alberta Beekeeping Commission. Local beekeepers produce 41 million pounds of honey annually, which injects $67 million into the economy.
The number of hives registered in the province in 2019 was 300,000. The industry expects the 2020 figures to be lower, estimating that between 50,000 to 100,000 hives will be lost.
According to Phillips, a northern beekeeper in the province lost 90% of his bees and had a $2 million loss in honey sales.
This 1:57-minute video by 4 Seasons Outdoors shows the same beekeeper in northern Alberta in March 2020, checking to see how many of his bees made it through winter this time:
Alberta beekeepers and the provincial government collaborated to find a way for government to support the struggling industry. In July 2020 the provincial government announced support for provincial beekeepers. They made $1 million available for replacing 13,000 hives.
Although this money didn't alleviate the entire problem caused by bee losses, beekeepers were thankful. The provincial government also tried—unsuccessfully—to get replacement bees shipped through the border.
Alberta beekeepers are in the early stages of another winter, so we wish them and their bees well in weathering the natural storms and in dealing with the ongoing hazards to their industry caused by the pandemic. It is very stressful for these beekeepers as they try to stay in business. So far there is no sign of these restrictions, or the winter weather, letting up.
© 2019-2023 Bee Mission. All Rights Reserved.
---