Another 5 Million Poisoned Bees in Costa Rica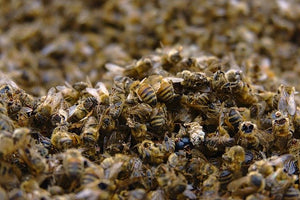 This is the third time in four months... the Costa Rica Beekeepers organization reported on August 13, 2020 that around 5 million bees died of poisoning in Lagunillas de Orotina, Alajuela in the previous week.
The affected beekeepers say this tragic extermination was caused by "unscrupulous people" who used toxic substances on their crops. As a result, 50 double-chamber hives filled with bees, including some new and vibrant queens, died.
National Animal Health Service (Senasa) officials removed insect samples to identify the type of chemical agent the bees were exposed to that killed them. Some dead bees were sent to their laboratories.
This poisoning cost the beekeepers everything. The bees were their livelihood. No bees survived, so it is a 100% loss. 
Costa Rican Carlos Cortes and his partner Liz Paniagua are a husband-wife-apiarist-activist team that is part of a growing movement of people who are working to save bees from the global crisis of colony collapse. Their bee rescue organization, Api-Agricultura, works with a model Rainforest Alliance Certified banana farm in Costa Rica to save bee colonies from destruction. They educate local communities about the importance of bees and encourage others to live in harmony with nature. Carlos and Liz exemplify the Costa Rican ethos of "pura vida." See them and their work in this 4:35-minute video:
But the loss of these latest 5 million bees is greater than "just" losing the bees. Not only have the beekeepers lost their bees, their hives have been damaged by contamination, and they will not have a harvest of wax and honey. They have also lost the materials beekeepers use in their trade. These losses are calculated to be over ¢25 million or about US$42,000.00.
The overall losses are inestimable, when you take into consideration the pollination shortfall this will represent, and the role these bees played in food production. Bees are vital and their loss creates environmental damage for the indispensable way they help conserve ecosystems and help plants reproduce.
This is the third such mass murder of bees incident that beekeepers in Costa Rica have reported so far in 2020. Over 2 million bees were exterminated by the insecticide Fipronil on May 8, 2020 in Esparza. Another mass bee poisoning occurred at a 30-hive apiary at San Isidro de Alajuela, on June 20, 2020 but the figures about how many bees were lost in that incident or what sort of poison killed them are currently unavailable.
What recourse do these beekeepers have in Costa Rica? What is Costa Rica doing about such massive bee losses? Are apiarist-activists Carlos and Liz of Api-Agricultura trying to protect Costa Rican bees from poisons like this? We would like to learn more, and will blog further about the subject when we do.
There is much talk but little action so far about regulating some pesticides, herbicides and insecticides that are banned in other countries, including on coffee plantations. Human health is also at risk when exposed to these poisonous chemicals.
On one hand, an image of an ecologically-driven consciousness in Costa Rica has been carefully cultivated, but on the other hand there is this devastating use of dangerous chemicals on food and coffee products that poisons the land, kills bees and sickens humans. A massive bee loss every month in May, June and August, or 3 out of 4 consecutive months. 
Costa Rice, Please Save the Bees.
© 2019-2023 Bee Mission. All Rights Reserved.
---