Canadian Man Wants to Help Ukrainian Beekeepers Relocate to Canada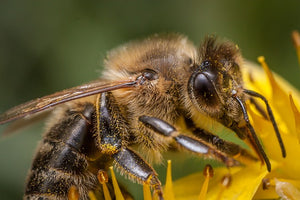 The Ukraine has been a top world honey producer up until now.
According to Canada's CBC, beekeepers Jeff Lee and his wife Amanda Goodman Lee would like to help displaced Ukrainian beekeepers to relocate to Canada.
The Lees are the owners of Honey Bee Zen Apiaries in Creston, British Columbia.
Lee says these industrious insects have taught people many lessons about working together for the greater good.
One bee produces about an eighth of a teaspoon of honey during its entire life, but collectively, the hive produces a living for his family. Together, they produce enough honey to carry the entire hive through winter.
Lee hopes he can help displaced Ukrainian beekeepers to make a new life in Canada by sponsoring them to work at Honey Bee Zen Apiaries. 
This is an unrelated 4:54-minute video by Beekeeping with The Bee Whisperer:
The beekeeping industry in Canada suffers from a shortage of skilled workers. As beekeeping season is imminent, he would like to hire Ukrainian workers. He believes Canadian farms can benefit from Ukrainian workers because Ukraine is a top honey producer. He is more motivated by the desire to help Ukrainian beekeepers than by a need for labor. 
Lee says that helping in this way would make them feel less helpless about what is going on and could have a small impact. They will wait for a family to come to Canada, even if it takes a year or more. 
Canada has a relaxed immigration plan for incoming Ukrainians, so Lee hopes this will help his plan move forward. He hopes to inspire Canadian beekeepers countrywide to do the same and already presented his idea to the B.C. Honey Producers Association and the Canadian Honey Council.
Heather Higo, president of the B.C. Honey Producers Association, is hopeful that it can be made to work, as there are many experienced Ukrainian beekeepers, but thinks that getting in touch with them now might be challenging.
© 2019-2023 Bee Mission. All Rights Reserved.
---