Recipe: Creamy Coconut Walnut Oats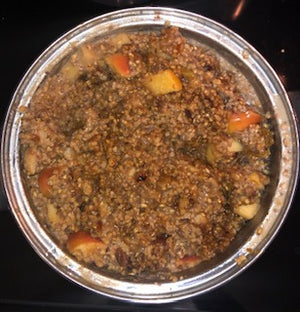 Sometimes when you hear that bees pollinate 1/3 of the food we eat, you wonder which foods they are. There are many!
Today our very own Chef Jean-Bernard is sharing his special oatmeal recipe he has enjoyed for the past 7 years. It is not just a melt-in-your-mouth variation of an old classic, it is filled with what we can only call 'gifts from the bees'.
The ingredients are pollinated by bees, except for oats which are wind-pollinated, bananas which are sterile (they are propagated from cuttings) and walnut tree pollen which is usually blown by the wind. If you drink a coffee with it, remember coffee plants are also pollinated by bees. It's fun to be conscious of where the food comes from that nurtures us.
CREAMY COCONUT WALNUT OATS RECIPE (serves 4-6)
Use a big stainless-steel pot to make this recipe on your stove top.
600 grams of steel cut oats
2 bananas, chopped
2 apples (sweet like Pink Lady), chopped
740 ml of organic unsweetened coconut cream
100 grams of dates, chopped
150 grams of chia seeds
100 grams of sultanas (golden raisins)
A handful of walnuts, chopped
A good shake of each spice to suit your taste: cinnamon, cloves, nutmeg, cardamom, pumpkin pie spice
HONEY, local if possible or a flower flavor you love
When cooked, serve up a bowl with as much HONEY as you like drizzled over it.
Try this easy-to-make recipe, and don't forget to thank the bountiful busy buzzing bees! 
INSTRUCTIONS:
The oat adventure begins by pouring the oats into the pot and adding coconut cream, bananas, apples, dates, walnuts, chia seeds and sultanas. Introduce enough water to cover the oat mixture, about 800 ml – 1.4 L water. Turn the heat setting to a little over the medium mark on the stove.  Let the mixture cook for 25-30 minutes, stirring frequently, depending on how fast the oats cook. As the oats soften and plump up, turn down the heat to lowest setting for about 5 minutes. Sprinkle in the spices. You can add honey now or wait and pour it over oats in individual serving bowls, as you prefer.
This is a highly adaptable meal you can eat day or night. You can use rolled oats instead of steel-cut (but it will cook quicker), exchange fruits in harmony with fresh fruits of the seasons, replace walnuts with almonds or pecans. If you can't find or don't like coconut cream, use heavy cream, half-and-half, almond milk, coconut milk or something else of your choice. Milks make it a looser oatmeal. Serve it with honey, a dollop of preserves or yogurt. It can also be portioned into individual glass tubs and kept in the fridge as tasty 'fast food'. 
Let us know how you enjoy this recipe over on Facebook, and if you have any luscious oatmeal recipe secrets to share, we are all ears!
Bon appetit!   :) 
© 2019-2023 Bee Mission. All Rights Reserved.
---