Sweet Success for Ghanaian Woman Beekeeper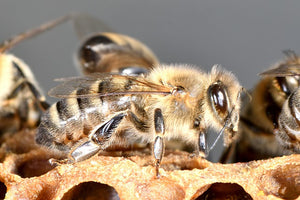 Judith Akos Atamah always wanted to be an entrepreneur since she was a child at school in Ho in the Volta region of Ghana. Now she is a beekeeper that creates wealth and jobs for others in Ghana.
She earned a bachelor's degree in chemistry from the University of Ghana, and tried a few businesses, but nothing worked for her until 2013 when she served with the Wildlife Division of the Forestry Commission in Takoradi, Ghana's western port city. She was introduced to beekeeping by one of the guards at a forest reserve. He told her she could try it, so she got trained and started in 2014.  
There was no looking back. Nowadays she has her own apiaries, and she has trained others. Her company, JA24 Foods harvests an average of 2,000 liters of honey monthly for packing and distributing in 13 of Ghana's 16 regions.  
What is the sweet secret to her success? She has many, but her attitude to bees is a large part of it. She says bees are like human beings, and the way you treat them determines how they work for you. She finds beekeeping very exciting.
This 4:37-minute video by World Vision Ghana features 42-year old mother of two, Kesia Dorla Kwabre, who was trained by World Vision's beekeeping program in Ghana:
Atamah's company sets hives during dry season and other times of year. When the bees split and swarm, she uses essential oils and honeycomb to bait the bees and lure them in. Once they are drawn in, they get comfortable and stay, producing honey for harvest. The honey takes from 6-8 months to mature, depending on nectar availability.
She says once the bees get comfortable, they only need a visit from the beekeeper every two weeks, so it makes an ideal part-time business.
In her case, consistent quality is what gave her honey a high acceptance rate. Organic honey is a big market with expansion potential because there is a growing demand based on dietary choices and lifestyle changes for healthier living.
Honey from JA24 Foods is totally organic with no additives. The only thing they do with the honey after harvesting is to run it through a filter to remove dead bees and debris. Then it is distributed to retail shops for sale to the public.
One easy way to test the quality of honey is to drop some honey on a piece of paper and turn it over to see the back. It should remain dry, as pure honey will not wet any surfaces.
There is a vast global market for Ghanaian honey exports that is duty-free, quota-free and under the partial Economic Partnership Agreement, but since 2017 Atamah's company has not been able to keep up with local demand. It is the same for all the local beekeepers. The export market is wide open for others who might get into this line of business.
Another huge area of opportunity for new Ghanaian beekeepers is trading under the African Continental Free Trade Area (AfCFTA), where Ghana is the hosting secretariat.
Atamah has built JA24 Foods Company into a successful business in a short time, with 16 permanent employees and 6 commissioned sales agents in the regions. These numbers don't include her out-growers.
She is optimistic about beekeeping as a good job creation avenue for young people, and would like to see more Ghanaians have a better life. Beekeeping can create more jobs and reduce unemployment, even if it is in a small way.
She recently expanded into adding virgin coconut oil packaging to her business. Now she needs financing to mechanize the packaging processes so the company can move into large-scale agro-processing to provide healthy and organic food to the public. This also creates more jobs and wealth in the local economy.
Atamah encourages young people searching for jobs to consider agriculture so they can help develop the agricultural value chain and create jobs for themselves and for others.
© 2019-2023 Bee Mission. All Rights Reserved.
---